Who Are We?
---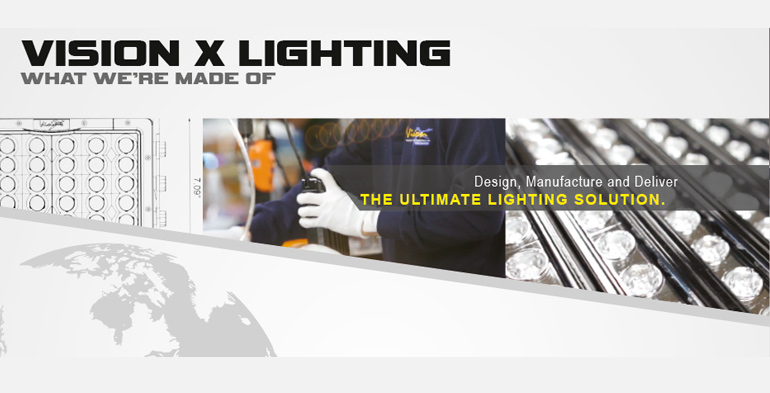 Vision X Lighting based in Seattle, WA, USA, established in 1997 with the mission to revolutionize the lighting industry.
Today is exactly what we do.
For many years, we have been making sustainable progress possible and driving positive change on every continent. The company principally operates through its six product segments.
Company strategy includes a vision of the future where: we are recognized as the leader everywhere we do business; our products, services and solutions help our customers succeed; our distribution system is a competitive advantage; our supply chain is world class; our business model drives superior results performance consistently rewards our stockholders.
INDUSTRIES
If you keep an eye out Vision X lighting can be found everywhere. The military, industrial mining sites, commercial vessels, fire departments, and even NASA have trusted Vision X on vehicles that don't have the luxury of second-guessing their lighting.
Vision X Lighting Solutions are not just for the professionals; the Vision X product line is diverse and has product available for all markets. Vision X can be found on boats, off-road vehicles, UTV/ATV's, and even street-legal cars and motorcycles. Whatever the need, Vision X has a product to meet and exceed your expectation.
---
ABOUT VISIONX EUROPE
Vision X Europe (Belgium & Sweden) is a part of Vision X global working as a distribution center in the European market. We service a number of countries with products, marketing, stock and sales. You are more than welcome to contact us for more information where to find the products in Europe.
COMPETITIVE ADVANTAGE
At Vision X, our products are constantly improving due to our rigorous product testing and standards we hold our products to. Our lights have been tested using the most rigorous tests available, including by NASA in their TORR Chamber. In this test, the light was tested at 10K (-323 F) and put through zero atmosphere tests. Vision X lights are used by NASA because Vision X lighting solutions stand up to the harshest conditions. Vision X lighting also goes through Ingress Protection testing which tests for the ability to keep out water and dust. Isolux Testing (for lumens at particular distances), Vibration Testing, and Thermal testing also take place. Many Vision X lights have also gained CE Approval. Through all these tests Vision X ensures the best lights possible are on the market.
Product Testing :
Consumption
Input Range
Long Term Durability
Submersion
Aging
Thermal Impact
Photometric
Temperature And Humidity
Ingress
Vibration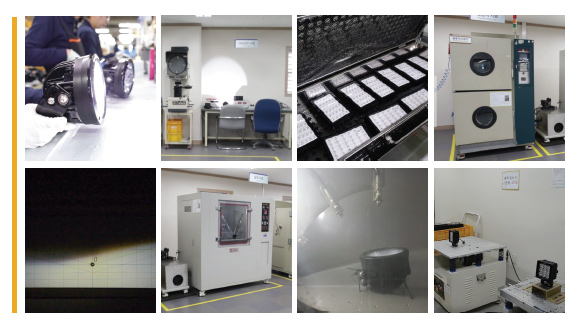 Certifications :
IEC 62471
Ensures that light output has safe levels of UV exposure for both skin and eyes.
E-MARK
European regulatory certification for on highway use.
RoHS
Ensures no use of restricted hazardous materials in products such as lead, mercury, cadmium, PBB, PBDE, and Phthalate.
UL
UL Certification is recognized around the world as a way to ensure standards.
ATEX 94 (94/9/EC)
The ATEX 94 certification is given to electronic equipment that is resistant to flame and explosion.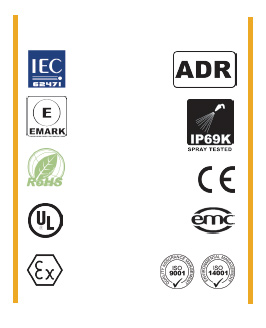 ADR 13/00
Products which are in compliance with the Australian Design Rules (ADR).
IP69k
Ingress Protection rates protection against outside elements. First number is solids, second is liquids.
CE
CE is a mandatory conformity mark for products in the European Economic Area.
EMC
EMC and EMI certifies that a product does not interfere with other electrical products. This includes CISPR 25 Certifications.
ISO
ISO 9001 Certification in Quality Management ISO 14001 Certification in Environmental Management