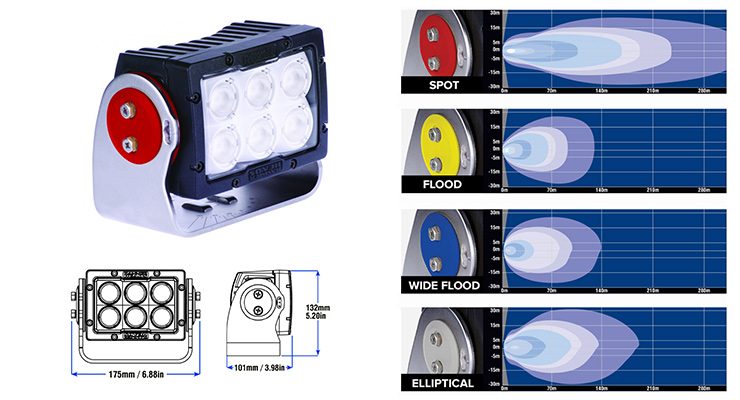 Features
LEDs: 6 x 10W
Housing Material: Aluminium
Light Colour Temp: 6000 Kelvin
EMC/EMI Approval: CISPR25-Class 3
Dimensions: 175/132/101mm
Weight: 2.7 kg
Voltage: 11-65V DC
Amperage: 2.47A@24V DC - 4.94A@12V DC
Vibration Rating: Up to 60 Grms
Lens Material: Polycarbonate
Certifications: CE, RoHS, IEC 62471
Revolutionary Protrac® 360° Aiming System
Hammerheads can be adjusted before fitment using the plate and rotation angles on the revolutionary Protrac® bracket. A fit out library is also available to suit common mining equipment with known locations and angles for the optimum beam pattern.

Electronic Thermal Management
In an extraordinary situation where the light is subjected to massive heat overload, a self protection protocol is engaged to reduce the light output, until such time as the heat overload retreats to normal parameters.

Soft Start Technology
Low "in rush current" on start up reduces wear on associated components which is particularly important on machines where multiple lights are used. It avoids light misfires and eases load on existing wiring. This feature helps reduce costly downtime.

Reverse Polarity Operation
Hammerheads will operate even when the polarity to the light is reversed. This is an advantage when retro-fitting Hammerheads to equipment that has previously been fitted with different work lights. This reduces the installation times for the technicians on site, therefore further reducing costs. It also prevents accidental damage caused by incorrect installation.

CISPR 25 - Class 3 Rating
The CISPR 25 - Class 3 rating ensures that Hammerheads do not introduce any RF noise into electronics/ radios, enabling unrestricted critical communication.