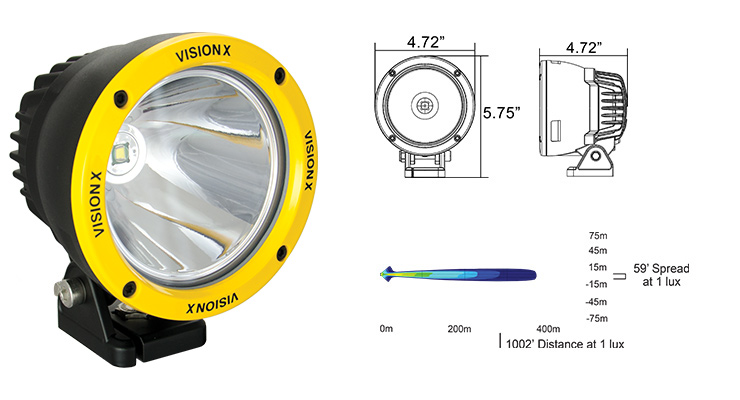 Features
LEDs: Single LED 40W
Housing Material: Hybrid
Light Colour Temp: 6000 Kelvin
Dimensions: 120/110/146mm
Weight: 0.92 kg
Voltage: 9-32V DC
Amperage: 3.33A@24V DC - 6.66A@12V DC
Vibration Rating: 15.6 Grms
Lens Material: Polycarbonate
Certifications: CE, RoHS, IEC 62471
Ultra Lightweight Hybrid Construction
Weatherproof Deutsch Connector
Advanced Heat Sink Design
The Cannon LED Light is the first of its kind to combine a traditional form factor light with the power of a 40 Watt single LED for use on bumpers, light bars and more.
IRIS REFLECTOR ACHIEVES 350m
The proprietary IRIS Reflector is the first of its kind in the LED market. With IRIS technology, a single 40 Watt LED is able to achieve unmatched distance and intensity with over 350 meter of usable light.